The hashrate of bitcoin is becoming increasingly centralized, with a few mining pools owning the vast bulk of blockchain mining power. According to Mempool's most current data, Antpool and Foundry USA control the majority of the overall hashrate, or roughly 55%.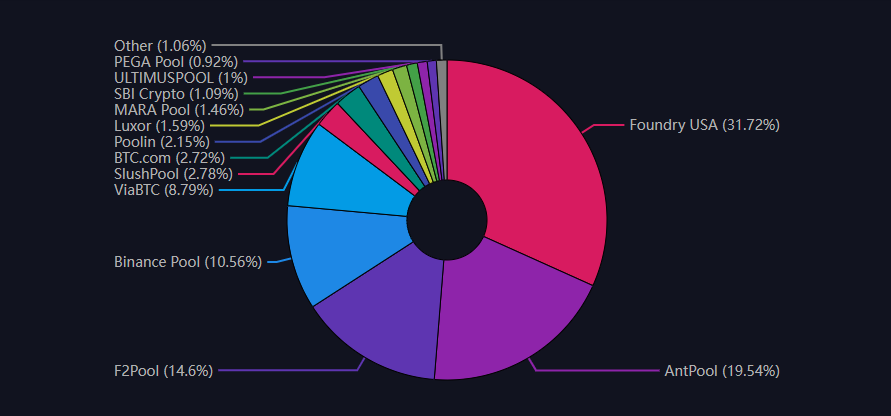 Source: Mempool Space (Last 1-month's data)
Foundry USA has maintained a hashrate of more than 30% of the total Bitcoin network for several weeks. Following China's prohibition on Bitcoin mining in the middle of the same year, it became the first non-Chinese mining pool to top the list in November 2021.
Foundry USA was responsible for roughly 17% of the entire Bitcoin hashrate at the time. However, while the Bitcoin hashrate is about 300 EH/s, the US-based pool now accounts for approximately 32% of the mining power, which corresponds to approximately 94% EH/s.
Antpool, on the other hand, ranks second with around 23% of the overall hashrate, or 65.91 EH/s. The China-based pool was once the largest Bitcoin pool, but it suffered as a result of the crypto mining prohibition, which drove some miners in the region to migrate.
According to the graph, almost 80% of Bitcoin's mining power is concentrated in just five pools. This contrasts sharply with the beginning of 2022, when these five mining pools barely topped 60% of the hashrate.
One of several factors that can explain this increase is the location of the servers for the aforementioned pools. With increasing server proximity to mining facilities and pools, information transfer latency lowers.
Another factor influencing the rise is the financial incentives provided by these huge mining pools. Larger mining pools constantly transfer revenues to their members, who pay a commission for mining with their resources, enticing more miners.
Concurrently, the Bitcoin network saw another difficulty rise on January 29, 2023, at the block height of 774,144. The network's difficulty climbed by 4.68%, from 37.59 trillion to an all-time high of 39.35 trillion. The next change is set for February 11, 2023.
For more articles visit : Cryptotechnews24