November 2022 was one of the worst months for the two most popular cryptocurrencies — Bitcoin (BTC) and Ethereum (ETH).
November was Bitcoin's second worse month in 2022
According to CryptoSlate data, Bitcoin lost roughly 18% of its value in the past 30 days — making November the second-worst month for the year and its biggest monthly loss in the last five months.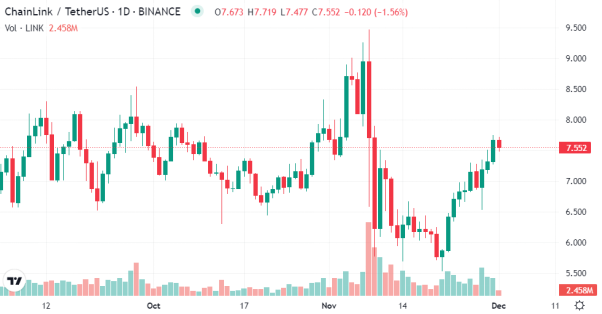 While Bitcoin's value slightly recovered towards the end of the month, FTX's capitulation shattered retail traders' trust in the system. Glassnode reported that crypto investors witnessed the fourth largest capitulation on record with a 7-day realized loss of $10.16 billion
Over 50% of BTC holders are in loss after the asset's value dropped to around $15,600 — the lowest profitability level since March 2020.
Additionally, Bitcoin miners wiped out their 2022 balances as the volume of the asset sold surpassed the amount they accumulated during the year. Miners are under increasing sell pressure as the flagship digital asset's value struggled below the $16,000 mark.
Bitcoin miners like Iris Energy defaulted on a $108 million debt and ceased operations at two of its facilities in November. An unnamed Bitcoin miner also defaulted on rent in Dallas and left all of its equipment behind.
#Bitcoin Shrimps (< 1$BTC) have added 96.2k $BTC to their holdings since FTX collapsed, an all-time high balance increase.

This cohort now now hold over 1.21M $BTC, equivalent to 6.3% of the circulating supply.

Pro Dashboard: https://t.co/HpXwoav6wO pic.twitter.com/7U4oPAAakD

— glassnode (@glassnode) November 28, 2022
Meanwhile, despite all of these losses and capitulation, Glassnode reported that BTC Shrimps and Crabs have aggressively accumulated since FTX collapsed, leading to an all-time high balance.
Ethereum experiences its fourth-worst month
Meanwhile, November was the fourth worst month of the year for Ethereum as it fell almost 20%.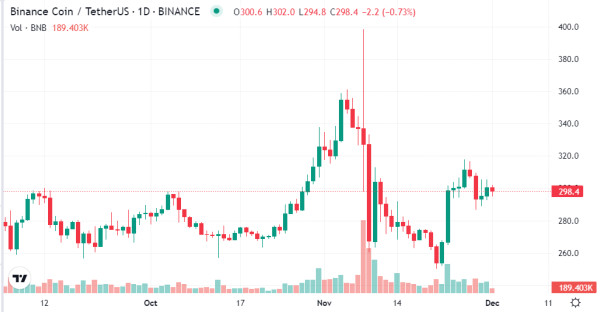 Following the collapse of FTX, ETH's value fell to as low as $1,110 on Nov. 10 from over $1,600. The cryptocurrency has recovered slightly since to over $1,200. As of press time, ETH was down 18% over the past 30 days.
The poor price performance appears to have spurred Ethereum whales and shrimps to accumulate. CryptoSlate's analysis of Glassnode data shows that investors in these cohorts have been accumulating Ethereum at an aggressive rate.
Despite the late rally towards the end of the month, crypto analysts' disposition towards the asset remains bearish. Popular crypto trader Capo of Crypto tweeted on Nov. 28 that he expects a capitulation that would send ETH price to around $600 to $700 soon.
I have spent hundreds of hours analyzing the market to come to the conclusion that:

Capitulation is a matter of time. $BTC should reach 12ks, $ETH 600-700, altcoins should drop 40-50% and shitcoins 50%+.

I won't post any more here until confirmation or invalidation.

Good luck!

— il Capo Of Crypto (@CryptoCapo_) November 28, 2022
Meanwhile, this is not the first time Bitcoin and ETH have had a bad November. In fact, the month has been a rough one for BTC historically. In 2018, BTC lost 37% of its value in November.
Article: https://cryptoslate.com/november-was-the-second-worst-month-for-bitcoin-fourth-worst-for-ethereum/