The price of Bitcoin (BTC) has dropped 1.45% over the last 24 hours according to the crypto market tracking website, CoinMarketCap. Nonetheless, the price of BTC is still up 3.62% over the last 7 days, taking the price of the crypto market leader to $17,022.35 at press time.
After reaching a low of $15,476 on November 21, BTC's price has steadily increased over the weeks that followed – taking it to its current level. There has not been a drop below the $15,470 mark since then. This has left some to believe that BTC's price bottom may be in for this bear cycle.
One metric that suggests that BTC has reached its bottom is the percentage of UTXO volume that was estimated to have been bought over the last week to last month, which has increased sharply for the first time in this bear market.
In the past, these movements came from the 2015 bear market when BTC was trading at around $185, then again in the 2018 bear market when BTC's price stood at $3,100.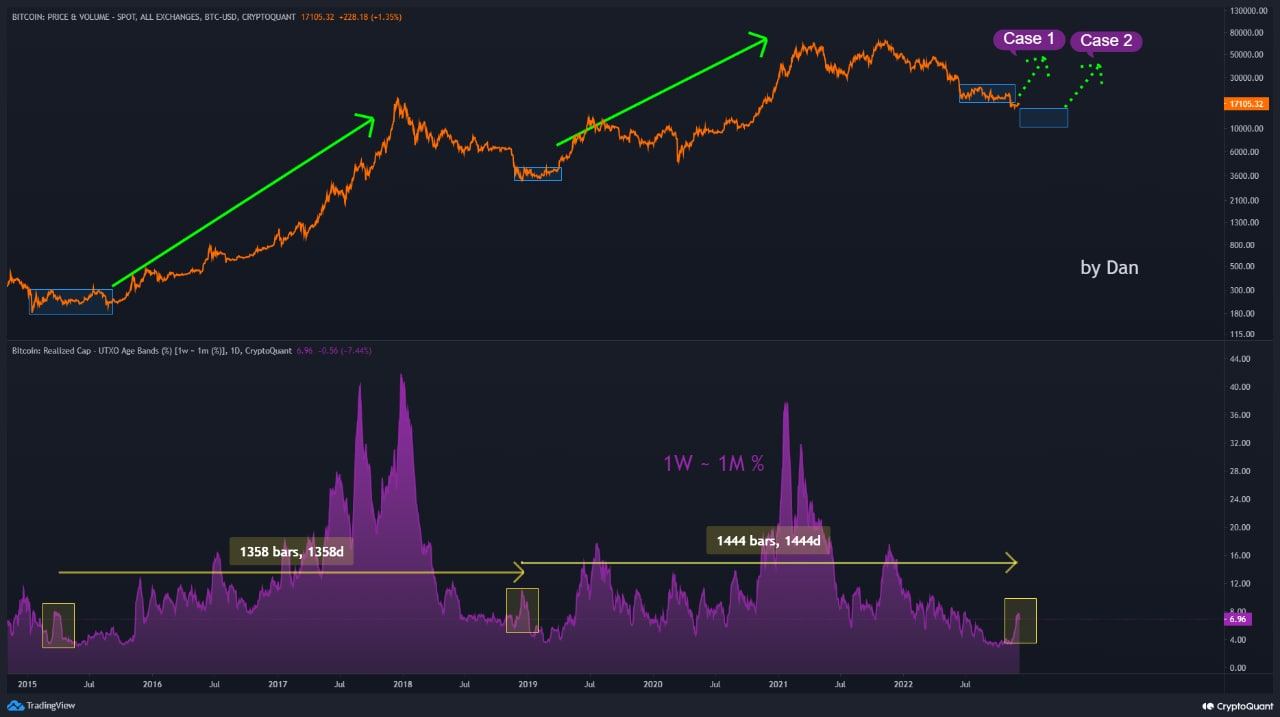 Spent UTXO volume (Source: CryptoQuant)
Another thing to note is that it took 1,358 days for the movement to happen in 2018, and has taken approximately 1,444 days for this latest move to happen.
Although these movements did not historically lead to immediate bull markets, they did come at a time when BTC established its bottom for the respective markets.
On the other hand, this may not result in a short-to-medium term transition into a bull market given the current global macroeconomic conditions.
Disclaimer: The views and opinions, as well as all the information shared in this price analysis, are published in good faith. Readers must do their own research and due diligence. Any action taken by the reader is strictly at their own risk. Coin Edition and its affiliates will not be held liable for any direct or indirect damage or loss.
Article: https://coinedition.com/btcs-bottom-may-be-in-given-this-historically-accurate-factor/