The cryptocurrency sector is still reeling from the massive sell-off started by the crash of crypto trading platform FTX, and the price of its largest asset by market capitalization – Bitcoin (BTC) continues to consolidate.
That said, commodity strategist at Bloomberg Intelligence Mike McGlone has kept his optimistic outlook on Bitcoin and the industry as a whole, suggesting that Bitcoin could outperform gold in the future as its top competitor, as he explained on December 7.
Specifically, McGlone said that:
"The nascent technology/asset is a top contender to outperform the metal in the long term, as we see it, and is backing up into a too-cold price zone."
He also posted a chart demonstrating "the Bitcoin-to-gold ratio at about the 10x level, which was first reached in 2017," adding that "in a world rapidly going digital, the benchmark crypto is a top competitor to old-guard gold."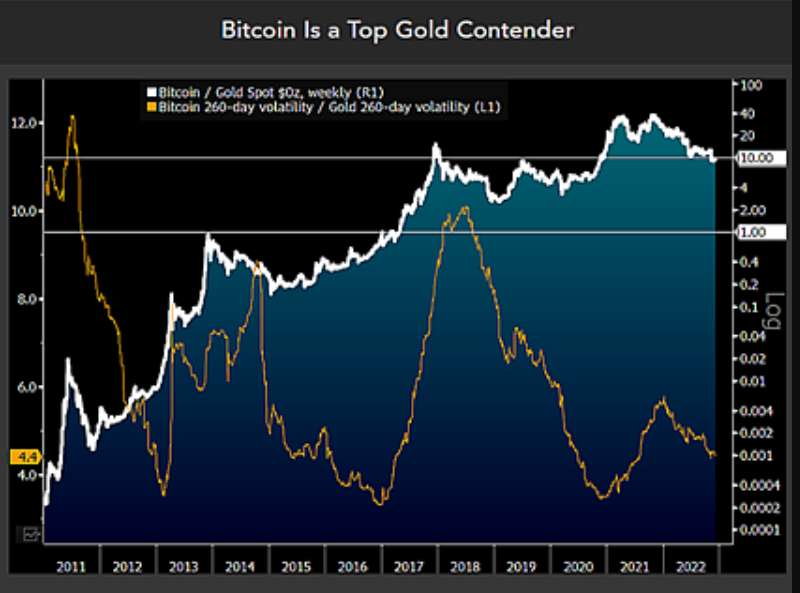 Volatility is high yet declining
McGlone did acknowledge that, at about 4x the metal, Bitcoin's 260-day volatility was still relatively high, although much lower than in 2018, when it was at about 10x to that of gold, despite the rising adoption facing a setback with the FTX collapse.
Furthermore, he stressed that "the crypto may be transitioning toward a high-beta version of gold and US Treasury bonds," as well as concluding that "declining relative Bitcoin risk may only be a matter of time."
Bitcoin price analysis
Meanwhile, the flagship decentralized finance (DeFi) token is currently changing hands at the price of $16,824.29, recording a very slight daily increase of 0.07% but an equally modest decline of 1.60% across the previous week, adding up to the monthly loss of 14.79%. In the meantime, gold is trading at $1,785.70 per ounce.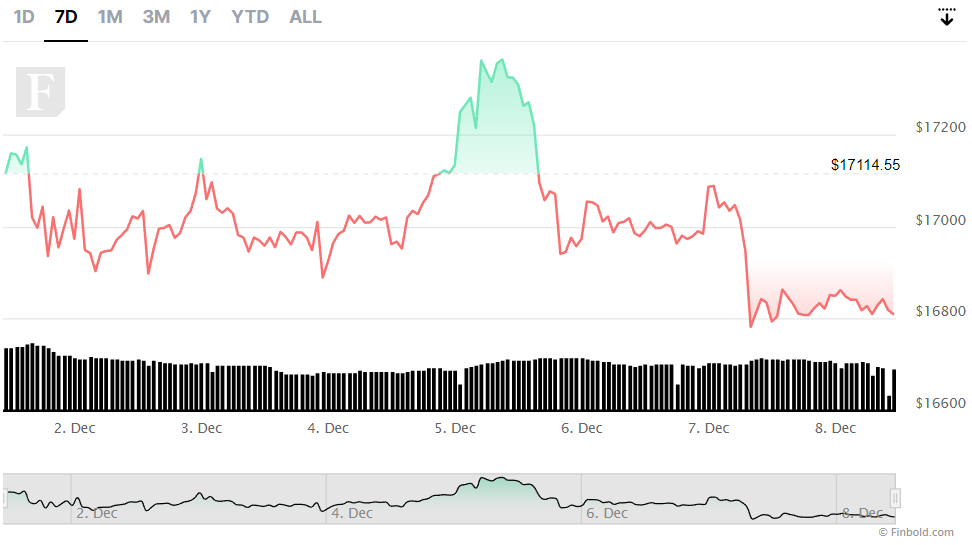 Earlier, Finbold reported that the 'Bitcoin Rainbow' indicator was consolidating at its lowest point as the maiden asset was aiming to reclaim the $17,000 level, whereas indicators were hinting at a bottom and a possible bull run in the future.
At the same time, Online Blockchain CEO Clem Chambers has warned that it could crash further to $8,000 as the FTX crisis remains unresolved and after Ethereum (ETH) was seen outperforming Bitcoin in the second half of 2022.
Disclaimer: The content on this site should not be considered investment advice. Investing is speculative. When investing, your capital is at risk.
Article: https://finbold.com/bitcoin-is-a-top-contender-to-outperform-gold-in-the-long-run-says-commodity-guru/